As long as you earn well, you'll need your finances to be managed properly. And to manage your finances, you can use both free and paid financial budgeting tools like Mint and Mint alternatives.
Get to know about the best alternatives to Mint Finance in this post. But before we dive into Mint alternatives, let's get to know a little about Mint.
What is Mint
It is a free financial budgeting tool that helps you to manage all your incoming and outgoing money in one place.
Mint lets you add all your accounts, credit cards, debit cards, PayPal wallets, and all other accounts.
Also, Mint helps you to manage your bills and other payments by notifying you so that you never miss your payment. This is one of the best parts of Mint, as it always lets you stay on top of your money and time.
Mint has more than 20 million users and also has an online version that helps you manage your finances directly from there.
Mint Features
Mint helps you stay on your money, bills, and investments by always notifying you of your bills.
Mint also lets you personalize your account by creating budgets, making your bill payments easier, looking for what has been charged, receiving alerts for every transaction, and helping yourself to improve your credit score.
Mint is free to use and very secured with a 256-bit encryption level, and the data exchanged with Mint is secured with 128-bit SSL.
Mint automatically classifies all your transactions accurately so that you can know where you are spending. You can also edit or remove the transaction from one category to another.
Mint budgeting allows you to set a budget for different categories either on a weekly or monthly basis. Mint sets your budget automatically depending on your transaction history, and you can change it whenever you want.
Mint provides users with graphical representations of their investments weekly or monthly. Mint also offers different reports like net worth, net investment, spending, debts, etc.
Mint Pricing
There's no pricing for mint as it is entirely free to use and helps you manage all your financial goals in one place.
Disadvantages of Mint
Mint has some negative aspects which have made its users opt for different alternatives that are available in the market.
Let's see some of the disadvantages:
1. Problem with Synchronization – Mint has one of the biggest problems with customer data synchronization. It doesn't connect to smaller banks or credit unions and has trouble staying connected long term. Mint often asks users to rebuild the connectivity with banks, and your data might last for days or weeks without being updated.
2. Intrusive Ads – It vigorously displays ads on its website related to your search and preferences, hindering your dashboard interaction and leaving a bad experience.
3. Lack of Investing Features – Mint does not provide any fine investment tool when compared to its alternatives. You can use Mint's investment tool for a short period of time but not for the long term.
4. Poor Customer Service – Mint also has very poor customer service support that most users have attested. There're multiple unresolved complaints, unanswered questions, and a lack of support for users.
5. Lack of Report Generation – The only way to generate a report in Mint is by exporting a CSV file to a spreadsheet like Microsoft Excel.
6. Lack of reconciliation. You cannot reconcile against your monthly bank statements as Mint assumes the data you downloaded is always correct.
7. Mistakes in Labeling Purchases – Mint always attempts to label your purchases as they come in, but it can get it wrong. Users have to check their purchases to ensure things are sorted into the right budget categories and to ensure that less common purchases are labeled appropriately.
List of Top Best Mint Alternatives
So far, we've seen both the advantages and disadvantages of Mint. This will show you why most users switch from Mint to other available tools.
There are many top alternatives to Mint that are available in the market today, and you have to choose your tool very wisely by comparing all the tools.
Personal Capital is the #1 best Mint alternative. It is a web-based finance application that focuses on investing and is completely free to use just like Mint.
Personal Capital emphasizes investing and saving for retirement, unlike Mint which focuses on budgeting and where your money has gone.
Personal Capital is that application that manages and tracks all your money with proper budgeting and investment options.
Features
It is a platform for both budgeting and investment management that helps you build a better tomorrow.
Personal Capital offers a free financial dashboard that you can use to track all your financial transactions as well as helps you spend wisely.
Investment tracking is available, this will help you make the right investment at the right time and see where it takes you.
Personal Capital customer service is great. You can contact them 24/7 per week and they will listen to your problems.
Personal Capital security includes two-factor authentication, a Read-only platform, 256-bit Advanced Encryption Standard (AES), Fingerprint scanning, and much more.
Pricing
For financial management, Personal Capital is completely free to use but if also offers some plans for Wealth Management services and they include:
Investment Service: For up to $200 thousand Investment assets
Wealth Management: For up to $200 thousand – $1 million investment assets
Private Clients – For over $1 million in investment assets
When you compare Personal Capital with Mint, you'll see that Personal Capital is a much better option as it is a platform for both financial and investment management as well as have some great tools for investment.
Do you prefer taking everything in-house and track your money with a spreadsheet? If yes, Tiller Money is the only option on this list that will help you achieve that.
Tiller Money was established in 2015 and it is the only service that will synchronize your financial transactions into a complete customization spreadsheet.
Tiller Money supports MS Excel and Google Sheets and also claims to be the only tool that updates Google Sheet and Excel automatically for your daily expenses and transactions. All you need do is to sign with Google, and in just three easy steps, you are ready to go.
With Tiller Money, you put your budget into a spreadsheet and the platform will do the work of pulling your transaction data from your financial institutions.
Features
Tiller Money makes use of Google sheets templates for personal finance and businesses. Tiller Money makes your boring stuff automated.
You can manage all things with Tiller in just one place like seeing your daily transactions from 18,000 different resources straight into your Google sheet.
Spreadsheet workflows let you use familiar formulas, favorite add-ons, charts, custom reports, and pivot tables too.
Tiller Money doesn't display ads based on your finances but protects your data with 256-bit AES encryption and Two-factor authentication.
Tiller Money automatically categorizes your transactions as per your guidance and rules. You can also manually categorize your transactions.
Pricing
This platform offers very simple pricing and that too with a free trial for 30 days. After you must've completed your free trial, you'll be charged $59 per annum i.e. $4.92 a month.
Tiller Money is a simple and great alternative to Mint that doesn't make things fizzy. All you need to do is to log in with your Google account and start managing your financial transactions with Google Spreadsheet workflows.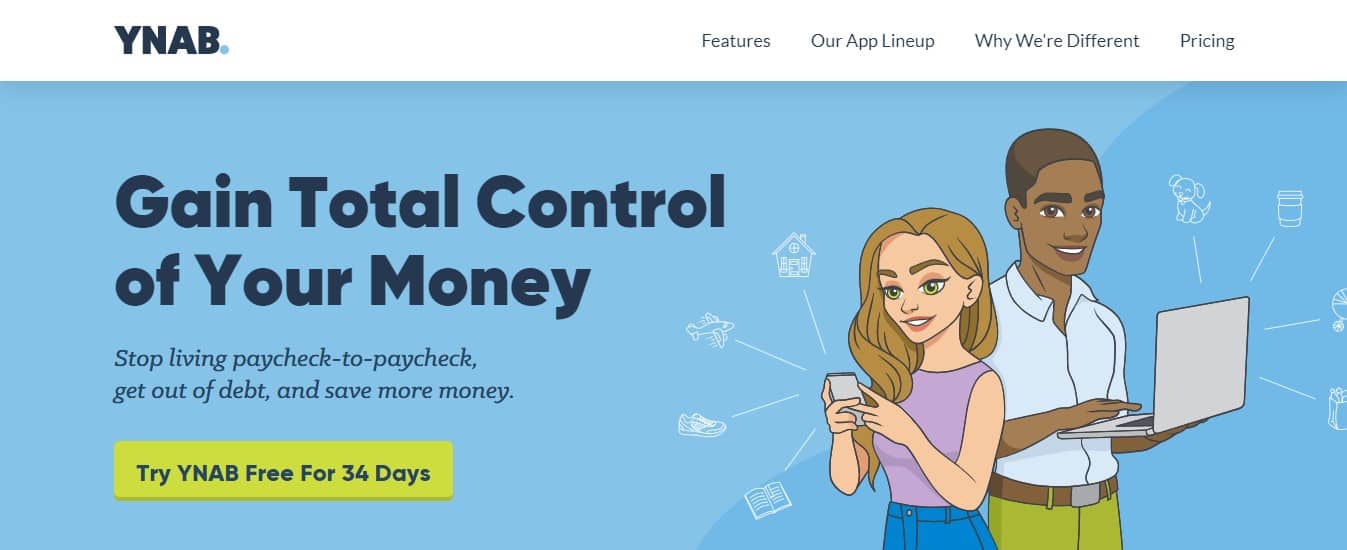 YNAB is all about planning your spending ahead of time, unlike Mint that's heavily focused on helping you track your spending after it's gone.
You are not going to get a solid investing app with YNAB, but you'll be able to feel more as though you are directing your resources, rather than just tracking where your money has already gone.
YNAB is an excellent application for those primarily interested in zero-based budgeting. YNAB is much more in-depth and hands-on when it comes to helping you use money as a tool.
Features
You Need A Budget is a proven method of budgeting successfully and building a better tomorrow.
YNAB lets you budget together with your partner by accessing real-time information from anywhere and any device.
You can track your goals, watch out for your reports, graphs, and chats set a budget, and move towards progress.
It offers 100+ free and live workshops for personal support to users
Data is secured with encrypt hashing of all passwords and encryption of user data.
Pricing
YNAB offers a free trial for 34 days with no credit card required. It charges $84 per year i.e,. $7 per month. However, YNAB offers a 100% money-back guarantee.
If you want complete and total control of your money, YNAB is the best option as it is a proven method and is trusted by everyone.
This is also a great application for taking control over finances. Customers claim that no other software offers the depth and breadth of tools like this.
Many businesses and companies use Quicken as it is the most reliable, supportive, and the best tool for financial management.
Features
With Quicken, you get your complete financial life picture at a glance in a single place
You can easily view and manage your bills as well as track your investments
Great customer support service
Pricing
For Windows, Quicken offers four different plans i.e,. Starter, Deluxe, Premier, and Home & Business.
Starter – For control of money ($34.99 a year)
Deluxe – For managing and saving money ($39.99 a year)
Premier – For maximizing investment ($59.99 a year)
Home & Business – for managing personal and business transactions all in one place ( 79.99 a year)
For Mac, Quicken offers three different plans i.e. Starter ($34.99 a year), deluxe ($39.99 a year), and Premier ($59.99 a year).
Quicken is a great alternative for Mint as it provides in-depth tools for managing and taking control of financial transactions.
Every Dollar is a free application software for budget management and for removing money stress. Every Dollar helps you to create a monthly budget and achieve your aim every month.
The app is available for both Android and iOS devices.
Every Dollar offers Every Dollar Plus. Every Dollar Plus is for those who want advanced features and premium budgeting, and it is not free to use.
Features
With Every Dollar, you add your monthly income, start your budget, and plan your expenses with customizable templates.
You can also track your monthly spending every time you spend, create a transaction, and track it to your budget.
Every Dollar has features like Multi-transaction drop, split transactions, debt reduction tool, and bank syncing, which makes it more convenient.
Pricing
It is completely free to use but there is another tool that has a pricing plan which is Every Dollar Plus. Every Dollar Plus is billed yearly with a total amount of $129.99.
For those who want their budgeting on a monthly basis, Every Dollar is the best option.

This is a personal finance management suite developed by IGG software for Mac OS and iOS platform. It was formerly called iBank.
Banktivity has released a total of seven versions of desktop software with new and advanced features in each version.
Banktivity connects all your accounts in one place and allows you to make smarter decisions.
Features
Banktivity offers different types of accounts, including savings, investment, cash with debt/loan management, account groups, hide/show accounts, details, and many more.
Banktivity works with multiple currencies and lets you download exchange rates of different currencies.
It has a calendar feature that provides running balance, posted transactions, scheduled transactions, and investment performance.
It has an importing feature that offers inline importing, importing from Quicken, direct access, download, and web download.
It has customizable categories, flexible tags, file management budgets, and much more.
Pricing
Here is the pricing of the two latest versions of Banktivity
Banktivity 6: $64.99
Bankitivity 7: $69.99
Banktivity is the best suitable software for those using a macOS or iOS operating system.
Pocket Smith is a web-based personal finance application that lets its users create budgets and calendars, as well as analyze spending patterns and generate projections of your financial picture based on budgeting scenarios.
Pocket Smith lets you create monthly, weekly, and daily budgets and also allows you to track one-time expenses and income such as quarterly taxes or freelance earnings.
Pocket Smith also has a "Plan Ahead" guide that walks you through what-if scenarios.
It is easy to use and convenient, and its budget-setting functions are uniquely flexible, and it is easy to set up an account.
Pocket Smith calendar-creation feature is convenient and gives you a window on the future of your finances.
Other features
It finds and organizes your transaction in a category with automatic live bank feeds and send your expenses to zero.
It also handles multi-currency, budget calendar, easy and powerful forecasting, and flexible budgeting.
Finest reporting with an interactive dashboard that shows your net worth, income, and expenses as well as cash flow statement.
It has complete security with two-factor authentication, can import data from Mint, can invite other users, and email notifications for your ease.
Pricing
Pocket Smith offers two paid plans and one basic plan for free.
Pocket Smith paid plans are Premium (for intermediate budgeting and investing) $9.95 per month and Super (for premium budgeting and investing) $19.95 per month.
Pocket Smith may be more expensive than other tools but has some great futures like flexibility, cash flow statements, user invitation, and many more, which makes it a great Mint alternative.
This is a personal finance management software that contains all the features that you require like online bill payment, account management, net banking, investment management, budgeting, and much more.
Moneydance also handles multiple currencies with payment reminders, and you can virtually perform any financial task.
Features
With the online banking feature, Moneydance automatically categorizes your transaction and cleans up your history whenever required.
With the account summary feature, you get an overview of your finances like net balance, expenses, investments, upcoming and overdue transactions.
The Graph and report feature helps you to visualize your expenses and income. You can even print the graph and save it as an image.
The account register feature helps you to enter, edit, and delete transactions in an account and it automatically calculates the balances and sorts the transactions.
Pricing
You can get the Moneydance software from their official website at a price of $49.99.
Status connects you with loved ones or peers and can share financial tips and reports with them. It is considered to be the social network of your finances.
It lets you compare finances and generate insights that will help you out to manage your money intelligently.
Features
Status helps you to connect to your friends, get the latest information related to finance, anonymously post questions, and get likes on your post.
It works as a social media account for all your finance-related queries and topics as well as helps you to earn rewards and badges.
It links all your accounts, tracks, and manages your financial data as well as helps you to perform comparisons.
Pricing
It is a free software product.
This is an online service that automatically downloads your transactions into one place and lets you create budgets with ease.
CountAbout lets you import your existing transactions from Mint or Quicken. With CoutAbout you can import data from Quicken with ease, something you can't do in Mint.
There are no ads but there is an annual fee, and you can create reports to give you in-depth feedback on your finances.
Pricing
CountAbout offers two different pricing plans i.e. Basic ($9.99 per year), and Premium ($39.99 per year)
CountAbout also offers add-ons like;
Attachments – adding images ( $10 per year)
Invoicing – for tracking invoices ($60 per year)
When compared to Mint, CountAbout has a much better tracking feature which makes it a great alternative to Mint.
Summary
There are many finance management software tools available in the market today, but here are the top best Mint alternatives. 
Each software tool has a different set of features although some tools are similar. For instance, there is not much difference between Mint, Status, and Banktivity.
All of them are used for financial management, but the difference is that Status is more like a social media app, and Banktivity is only for macOS and iOs users.
Power Capital, Quicken, YNAB, and Pocket Smith are tools for better investment and saving purposes. These tools are pretty expensive but are worth it.