This post covers detailed information on how to transfer money from one bank account to another bank account online.
Banks are now catching up with online technology and have created different ways you can connect your cash including websites and mobile apps thus giving you more access to your finances.
Today, you can sit comfortably in your home and transfer money from your bank to another bank by using the bank website, mobile apps, or other online payment tools.
How Do Banks Transfer Money?
Most banks use the Automated Clearing House (ACH) system to transfer money. When someone sends you money via direct deposit, they are using the ACH.
The ACH was created in the 1970s as a faster alternative to checks and a cheaper solution than wire transfers.
ACH is an electronic system that transfers money in large batches overnight. It is faster than many other traditional transfer options and also more secure than wire transfers and other types of electronic payment because it is backed by the self-regulating NACHA.
How to Transfer Money from Bank Account to another Bank Account Online
Transferring money from one bank to another is a common need for most people. I myself have two different bank accounts which I use for my personal and business needs and I frequently initiate transfers between them.
If you are the owner of both bank accounts, a basic bank-to-bank transfer is a good option. You can do the transfer with the sending or receiving bank, and the money will arrive at the destination after two or three business days.
The timing totally depends on the bank you use and whether you're moving money internationally or domestically.
Most banks let you make free transfers between connected accounts but it is a good idea to check with both banks, just to be on the safe side.
NOTE: Before you can complete a transfer, you need to link your accounts. The linking of accounts can take up to a week, so be sure to establish the link before you need to transfer money.
How to link your accounts
Log in to the account you want to send money from, and click on "add an account", "add external account", or "link account".
Provide the bank's routing number and your account number at that bank. If you don't have that information, you can get the numbers from a check, from that account's online banking account, or from your bank representative.
After submitting the information, you may be required to verify that you are the owner of the external account by providing your username and password or by confirming a small "test" transfer between the two banks.
This is the easiest method if both bank accounts are in your name. To transfer money to somebody else, you may need to use a third-party payment provider like PayPal, wire transfer, etc, we'll get to discuss more of that below.
Transferring money between two accounts is typically free but at times, there's a limit on how much you can transfer at once. This depends on your bank's policies. For example, when you compare credit unions and banks, you'll see that credit unions have lower fees.
When transferring money in and out of your accounts, bear in mind that there are usually savings and checking account minimums you must maintain to avoid additional fees or account closure.
 Information you need to Transfer Money
At times, it can be confusing when it comes to transferring money from one bank to another especially if you don't know what you need.
To transfer money from a bank account to another account you will need the following information:
1. Bank Name
You need to know the name of the bank you are sending money to. This should be easy if you are transferring to another one of your accounts.
2. Savings/Checking Account
You need to identify if the account is a savings or checking account. This should be simple if both are your own accounts.
If you are transferring the money to someone else, you will need to find out from the recipient before you can make a bank transfer.
3. Personal/Business Account
You need to know if the receiving account is a personal or business account. This is because different guidelines and fees may apply for transfers to and from business accounts.
4. Routing Number
A routing number is a nine-digit number that is connected with your bank. A bank can have multiple routing numbers, so ensure to double that to know if you are using the right one.
5. Account Number
An account number is another important number you need when transferring money between banks. An account number is an 8-12 digit number that is associated with your unique account.
Alternatives to Bank Transfers
Here are other ways you can transfer money from a bank account to another account online if you are sending the money to someone else's account.
 Apps
Sending money this way has become very easy today since there are plenty of apps and sites offering transfer services.
Whether you want to pay for a hotel reservation, want to split bills, or pay your rent, these options will help you make quick transfers between banks.
Once your bank account is linked to the app, you can quickly transfer or send money easily.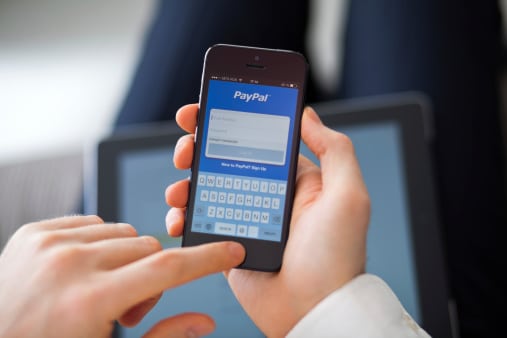 Here are some apps you can use to send money:
1. PayPal
You can send money to someone else via PayPal. PayPal is one of the fast methods of sending money online to people.
The money you sent will appear in the recipient's PayPal account and from there, he/she can transfer the money to their own bank account.
2. Cash App
Cash App is another popular peer-to-peer payment app that allows you to send money to another user's bank account or debit card.
The user can also set up direct deposit so that the money they receive automatically goes into their bank account.
3. Chase QuickPay
This app allows you to send money from your Chase bank account to someone else who is not a Chase customer.
You can also send an invoice and request that someone else sends you money if you have a Chase QuickPay account.
4. Venmo
Venmo lets you make money transfers instantly from your bank account, debit or credit card, or from your Venmo's balance.
5. Apple Pay/Google Pay
You can use either Apple Pay or Google Pay to make bank-to-bank transfers, online payments, and more.
Apple Pay is connected to your Apple Wallet and makes it easier to send money back and forth.
6. Zelle
Zelle is a peer-to-peer payment service that is available via a number of mobile banking apps and as a standalone app.
If you and the recipient have accounts with banks that Zelle supports, transfers can be made easily using an email or phone number.
Not only these apps are usually more convenient when you need to do a bank-to-bank transfer with someone who uses a different bank than you, but they also let the recipient get the money the same day.
Wire Transfers
Wire transfer is another option when you need to transfer money between banks quickly. It lets you send money electronically.
It is a feasible alternative if you need to figure out how to transfer money without going through your bank since there're non-bank providers such as Western Union.
Wire transfer is a well-known solution for sending money internationally or making fast transfers. You will need the following for a Wire transfer:
The recipient's name
The destination
Transfer amount
Things to consider when choosing a transfer method.
There are multiple factors to consider when trying to decide how to transfer money from one bank account to another bank account such as:
1. Transfer duration
Most apps allow for instant transfers which cost an additional fee. For example, Cash App charges 1.5%, and Venmo charges 1% up to $10. Some bank transfer options take several business days.
So, depending on how badly you need the money, you might need to choose the fastest transfer method.
2. Transfer fees
If your bank account balance is low or you don't want to spend unnecessary money, you may prioritize how much it costs to transfer money.
Some methods can be more expensive. For example, wire transfers are usually the most expensive option which costs between $25 to $45 depending on if you are sending money domestically or internationally.
3. Transfer limits
Some methods limit how much you can transfer to your bank account per day or month. It is important you are aware of these limits to make sure you are able to send or receive the full amount you need.
Summary
By now I'm certain you know how to transfer money from one bank account to another bank account online.
You can transfer money through your bank or an app. Bank to bank transfers between your own accounts is best done via your bank and transferring money from your bank to a friend or family member is easier using an app.