Updated List of Best International Banks In Dubai
As the United Arab Emirates' central economic and financial hub, Dubai has attracted many foreign investors in almost all sectors. The city is currently where most people in the world want to live and do business.
This is because investing brilliantly in Dubai will bring them maximum profit due to its commercialization and financial power.
As we just read, in the UAE, Dubai has witnessed and is still witnessing lots of investment in different fields, especially oil and gas, because of its richness in the liquid gold, which the banking sector cannot be left without mentioning it.
Over the past few decades, financial institutions in Dubai have reached a high standard in the world banking sector, with many start-ups and established banks (both local and international) present within and outside the commercial city of Dubai.
In Dubai, almost all the local and international financial institutions are situated within its financial city. The Dubai International Financial City (DIFC) is a district where commercial and financial activities are carried out and tourist sites and many residential towers. Some of these banks include HSBC, Deutsche Bank, and many others.
Dubai's international financial center (DIFC) is very important to Dubai's commercial and economic strength. It's owned and managed by the government of the UAE and is known in almost all parts of the world.
It has different financial institutions, both local and international, offering different services like corporate and investment banking, trade and commerce, stocks, business loans, and infrastructure finance situated in it.
Businesses and firms located in Dubai International Financial City are exempt from paying taxes for the next 50 years, with foreign investors owning 100 percent of the company.
The Financial Center houses almost all the biggest international banks in Dubai.
Dubai, in the UAE, was able to attract loads of foreign and local investments because of its tax-free environment, economic diversification, established laws, and infrastructure.
What Services Are Offered by International Banks in Dubai?
Unsure of the criteria to consider while selecting the finest bank in Dubai? Generally, most banks provide a wide range of services to city-based enterprises. Some of these services include business loans, trade financing, and investment banking.
They can also offer services for managing accounts and exchanging currencies. Your choice will ultimately depend on the business banking and account management services you require. Most foreign banks in Dubai provide one-stop shopping for all your business banking requirements.
Look for a bank that can help you:
Grow your business
Provide the capital you need to expand your operations
Access new markets
To make it simple for you to handle your finances, check the bank has a wide network of branches and ATMs throughout the city.
An international bank in Dubai can assist you in achieving your business objectives, whether you're seeking for a business loan or simply want to register a business account. We advise speaking with a specialist if you're having problems choosing the best decision.
How to Choose The Best International Bank in Dubai for Businesses
Even though there are numerous offshore financial centers in the world, Dubai is frequently mentioned as one of the greatest locations for business.
The city has a supportive atmosphere for business and provides a wide range of facilities and services that are helpful to it. A sizable number of foreign banks, which provide a range of services and goods geared at enterprises, are also located there.
So what should you look for when choosing the best bank in Dubai for your company?
Finding a bank with experience working with companies in your industry is crucial, to start. They will be able to grasp your particular wants and offer specialized solutions if they do this.
The second thing you should do is look for a bank with a good standing in the OFC (offshore financial center) market. Comparing exchange rates and related costs for international money transfers is advantageous as well. You'll feel more at ease knowing that your finances are in capable hands as a result.
Finally, it's important to take into account any additional services that the bank may provide, such as asset management, trade finance, or mobile banking. You may be sure to choose the best financial institution in Dubai for your company by considering these things.
Let's check out the best and biggest international bank in the commercial city of Dubai:
Our Top Selected International Banks in Dubai (2023)
Standard Chartered Bank
Citibank
Royal Bank of Canada
Habib Bank AG
HSBC Bank
The Hong Kong and Shanghai Banking Cooperation Limited. HSBC, as it stands, is one of the largest banking institutions in the world.
HSBC Middle East is the first of numerous banks in the UAE. The second-largest bank in the world by assets, HSBC Holdings, is the parent company of HSBC Middle East. HSBC Middle East manages all of its financial operations in Yemen and the GCC nations with its regional headquarters in Dubai.
British Bank of the Middle East (BBME) (formerly known as the Imperial Bank of Iran) was purchased by HSBC in 1959, giving birth to the HSBC bank.
The bank went through several expansions of service across Hong Kong and China but became fully established in 1999, it was renamed HSBC Bank of the Middle East (HBME).
It provides and offers a wide variety of services to its numerous customers, including mortgage banking, investment, cooperatives, personal, insurance, consumer, retail, and credit card banking.
Other services they offer include global accounts opening, E-brokerage, trade securities, money transfers globally, international services, and Egyptian Expert service.
HSBC Bank of the Middle East has made history in the world banking field and is also regarded as one of the best banks in the world at present.
The Standard Chartered Bank is a private global banking and finance company founded in the United Arab Emirates in 1957. Its headquarters are in London, England.
It provides financial services such as private, commercial, and Islamic banking to its customers. The bank's retail banking is largely dependent on the Asia, Middle-East, and Africa continents for over 91% of its profits and is unavailable in the United Kingdom.
The first Standard Chartered Bank branch was built in Sharjah, UAE.
In 2020, the digital bankers awarded Standard Chartered Bank as the world's best private bank in the Middle East in a retail banking award.
They also provide international services such as global bank accounts, ex-pat bank accounts, and international mortgages.
Founded in 1812 in the United States, Citibank is one of the top international banks with a branch in Dubai. The bank was first known as the City Bank of New York, then it became the First National City Bank of New York.
With operations in more than 100 nations, Citibank is one of the biggest banks in the world. In offshore financial hubs like Dubai International Financial City, where it has multiple branches, the bank is well-represented.
They offer services ranging from loans and credit cards to mortgage banking.
Its first branch in the UAE started in 1964 in Dubai and has other branches in different countries like Egypt, Tunisia, Lebanon, Qatar, Kuwait, Morocco, and Bahrain. It boasts over 3,000 employed staff and 30 branches in the UAE.
Citibank is dedicated to competitive rates and fees while delivering superior customer service. Citibank is a fantastic choice if you're looking for a bank that can handle your offshore banking needs.
Established in 1869 in Canada, the Royal Bank of Canada was one of the first established financial institutions. With over 16 million customers worldwide, the bank has continued to gain the trust of customers due to its lifelong integrity and great financial services to customers.
It currently employs about 80,000 bank staff globally and is worth over $1 billion in price market value.
This financial organization provides commercial banking, wealth management, and personal and business banking services. The Global ATM Alliance, of which Royal Bank of Canada is a member, gives its clients access to more than 50,000 ATMs in more than 30 nations.
Customers can perform financial activities from the convenience of their homes thanks to the bank's remarkable internet presence in addition to its wide network of locations.
Royal Bank of Canada is one of Dubai's best and leading international banks regarding good banking experience and service.
They offer banking services like commercial banking, mortgages, insurance, investment, cooperative banking, etc. This makes it one of the most patronized International banks in Dubai and even in the entire UAE.
Royal Bank of Canada is currently rated as one of the world's 20 biggest banking institutions.
Emirates NBD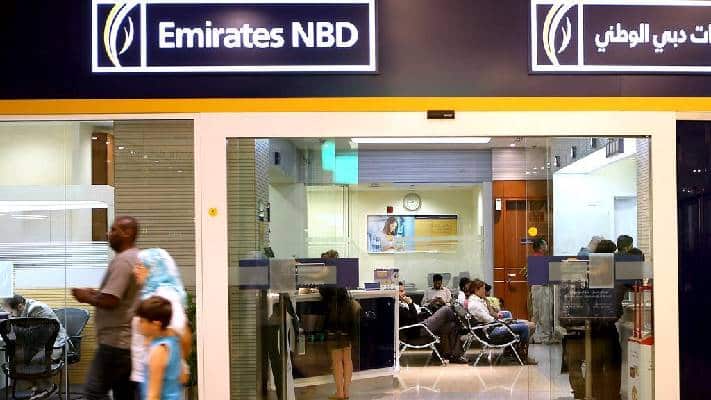 Moving on to Emirates NBD, another bank. Emirates NBD is one of the top banks in Dubai and one of the biggest banks in the UAE. This bank dominates the national banking market in the area and has a strong worldwide presence.
The full range of professional banking services and products are available from Emirates NBD. Deposits, loans, credit cards, debit cards, and investment banking products are a few. Additionally, the bank places a lot of emphasis on corporate and investment banking.
This bank also maintains a network of branches and ATMs in Dubai and the UAE. Additionally, it's one of the few banks in Dubai that provides banking services and products that adhere to Shariah.
Considering making frequent business trips inside the UAE region?
Additional branch offices for Emirates NBD may be found in Abu Dhabi, Qatar, Kuwait, Bahrain, and Oman.
Remember that the minimum average balance must be USD 200,000 or its equivalent in your local currency.
Founded in Switzerland in 1967, with its headquarters in Zurich, Switzerland, Habib Bank is one of the international banks with a branch in Dubai with a proven excellent banking record. Over the past 50 years, the bank has built its foundation on trust and integrity by offering quality services to its numerous customers.
They offer great banking services ranging from ex-pat account opening, corporate, commercial, investment, and retail banking services, e.t.c., through their different branches and affiliated financial institutions. Habib Bank has built customers' trust in the heart of Dubai's residents and its suburbs over the years.
Habib Bank AG offers its retail clients a comprehensive range of banking services, including credit cards, debit cards, and ATM services. Habib Bank AG is one of the biggest banks in Dubai and has a substantial regional presence. Thus, its customer care is unmatched.
The Arab African International Bank was founded through the joint business stock between Kuwait Investment Authority (KIA) and Egypt's central bank and is presently Egypt's first international bank.
Over the past decade, the bank witnessed lots of developmental strides that placed it on the map of the world's top international banks.
It is the only privately owned Egyptian bank with a branch or branch in the Middle East.
Arab African International Bank offers services like trading, credit cards, retail, Islamic, and investment banking, to mention a few.
Dubai Islamic Bank
Established in 1975, Dubai Islamic Bank is the first bank to offer personalized Islamic finance options and is also the largest Islamic Bank in the UAE. Headquartered in Dubai, the bank's Islamic banking policies and solutions serve as benchmarks for other Shariah-compliant banks to follow.
The bank guarantees attractive profit rates based on Shariah-compliant investments and also offers an account opening facility for minors with no hidden or maintenance charges.
What's Unique About Them
The leading Shariah-compliant bank in the UAE.
Noor Bank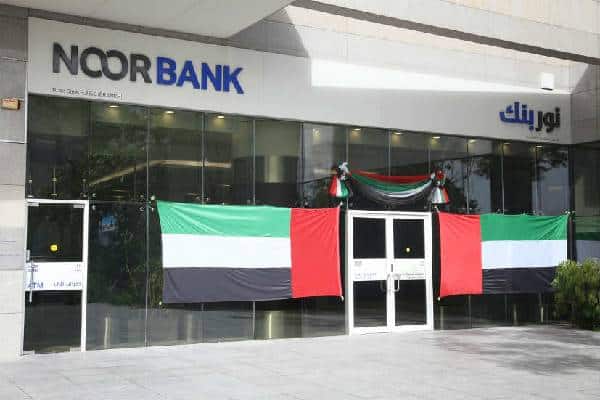 Noor Bank is a more recent member of the global banks with offices in the UAE. This organization, which was founded in the late 1990s, was once known as Noor Islamic Bank.
It offers a range of financial and wealth management products and investing services. Small to medium-sized businesses could gain from Noor Bank's investment bank services.
There is a network of Noor Bank locations in Al Ain, the free trade zone of Sharjah, and Abu Dhabi. Despite having its headquarters in Abu Dhabi, Noor Bank has a global network that extends to Saudi Arabia, the United Kingdom, and North Africa.
Best International Bank In Dubai
Closing Thoughts
International banks in Dubai, United Arab Emirates, offer a long chain of banking services like consumer, corporate, personal, retail, and investment services. Some of them even provide insurance services.
Many of them also give loans and grants and offer online and mobile banking services. Another great thing is that non-indigenes or residents of Dubai can own an account in Dubai with these international banks.
The vast commerce and trade in Dubai have brought lots and lots of good fortune and investment to the UAE, as almost all international banks in the world have their branches in Dubai.
Others are still considering opening a branch in the city has made the United Arab Emirates one of the key contributors to the banking industry in the Middle East and even the world.
We hope this article is unable to answer some of your questions; otherwise, you may want to check out this article: Top Banks in UAE. Review and Updated List with good customer feedback.
How to Open an Offshore Account With a Bank in Dubai
Dubai is one of the most popular locations for opening an offshore bank account. However, how does one open a bank account in Dubai?
You'll need to travel to the UAE and schedule a meeting with a bank. Unfortunately, opening an account at most foreign institutions in Dubai requires a physical presence.
This implies you'll have to show up in person if you're not working with a business solutions specialist.
Bring your passport and other necessary papers, such as identification or proof of income. After that, the bank will examine your credit and confirm your identity. You can create an account and use it once everything is accepted.
There are a few various kinds of offshore choices, so it's crucial to pick the one that best suits your requirements.
Consider an offshore trust or foundation, for instance, if you're searching for tax benefits. On the other hand, you might want to consider utilizing a numbered account if you're seeking anonymity.
There is an offshore account that may accommodate all of your needs.
The first step is to get in touch with a bank and schedule an appointment if you're interested in opening an offshore bank account in Dubai. Once you have all the required paperwork, the procedure is relatively simple. You can easily set up in a short amount of time with some preparation.