The Swiss people aren't only known for their generosity and good food. The country is also known for its stable banking system.
The Swiss Financial Market Supervisory Authority, commonly known as FINMA, regulates the banking system in the country.
Credit Suisse and UBS are the two most popular banks in Switzerland that account for more than 50% of all the total deposits in the country.
The Swiss banking system is made up of five types of banks. These are;
The big banks
The foreign banks
The cooperative banks
The private banks
The government-owned – commercial banks (Cantonal Banks)
If you are considering a banking career in Switzerland or you want to create a bank account but you are too overwhelmed to choose, here we bring a list of the top ten banks in Switzerland.
Note that, this list contains the top ten banks in Switzerland in no particular order
Top 10 Best Banks in Switzerland
This banking institution was founded in 1856, and it is one of the leading banks in Switzerland accounting for most of the total deposits in the country.
It is headquartered in Zurich, and it has four divisions;
Asset Management
Investment banking
Private banking
A shared services group that supports and markets the three other divisions
Credit Suisse bank is present in 50 countries and has over 48,000 staff. It serves clients through three regionally focused divisions;
The International Wealth Management
The Swiss universal bank,
The Asia Pacific.
Credit Suisse has a net income of CHF 3.419 billion and CHF 787.295 billion in total assets as of 2019.
UBS is a leading multinational bank founded in Switzerland. It was formerly called the Union Bank of Switzerland.
It was founded in 1862 and was then called the Bank of Winterthur. However, 1n 1912 the Bank of Winterthur merged with Toggenburger Bank and form the Union Bank of Switzerland (UBS) and it grew fast since the Banking Law of 1934 codified the country's banking secrecy.
Its headquarters is also located in Zurich.
It has offices in more than 50 countries and employs over 68,000 people worldwide. UBS provides top-notch services to private institutions, corporate clients, and retail clients in Switzerland with superior financial advice and solutions.
There are about 280 operational UBS branches in Switzerland. This bank accounts for 80% of the country's wealth.
It is the leading bank in Switzerland that operates in five core business areas i.e.
Wealth Management
Corporate & Institutional Banking
Retail
Assets Management
Investment Bank Services.
As of 2019, this bank generated a revenue of US$29.30 billion, had total assets of US$972 billion, and a net income of US$3.96 billion.
This is the third most popular bank in Switzerland and a leading retail bank. Headquartered in St. Gallen, Switzerland. Raiffeisen has become one of the largest banking companies in Swiss in the 21st century.
The bank has about 3.7M customers of which 1.9 million are cooperative members.
The group consists of 292 cooperatively structured banks and operates over 890 branches in Switzerland. Having over 11,000 employees, Raifeissen's total assets amounted to CHF 211 billion in 2018.
Banque Cantonale de Genève (BCGE) is a cantonale bank established in 1861, however, the current form of BCGE we're seeing now came into existence in 1994.
BCEC mainly focused on small and medium-sized businesses as such provides personal loans, mortgages, wealth and assets management services, saving accounts, and global commodity finance, among other services.
There are about 21 Banque cantonale de Genève branches in Switzerland with about 124 ATMs and 800 employees.
This bank posted excellent results in the year 2018 with an operating income of CHF 161.3 Million increase by 25.7 percent and a net profit of CHF 91.2 million.
This is regarded as the largest Cantonal Bank in the country. It is headquartered in Zurich and provides central mortgage institution banks, investment management services, savings accounts, and professional financing advice to its customers.
Zurich Cantonal operates with over 81 branches and 348 ATMs throughout the country. It has over 5,000 employees.
This is the Swiss largest private bank founded in 1890. It is headquartered in Zurich and operates in 20 countries.
With around 6,205 staff Julius Baer Group Ltd provides services including real estate financing, discretionary mandate, and investment advisory.
Other services it engages in include, foreign exchange, and precious metals trading. The bank also runs an open product and services platform.
Bank J. Safra Sarasin is an associate of the Brazilian Safra Group. It was founded in 1841 and offers asset management and investment advisory to both institutional and private clients.
The Bank J. Sara we are seeing today came into existence in 2013 when the Safra group obtained Bank Sarasin and Co. Limited and merged it with Jacob Safra Bank.
With over 1,000 employees, Its headquarter is located in Basel. It also operates in many places around the globe like Bern, Geneva, Lugano, Lucerne, Zurich, Doha, Dubai, Dublin, Frankfurt, Gibraltar, Guernsey, Hamburg, Hanover, Hong Kong, London, Luxembourg, Monaco, Munich, Nassau, Panama, Poznan, Singapore, Stuttgart, and Warsaw.
This bank is an associate of EFG Bank European financial group. Founded in 1995, EFG operates in over 40 locations around the world providing asset management services and private banking services to its clients.
It is headquartered in Zurich and is one of the largest Swiss banks.
Private Banking and Wealth Management, Asset Management & Investment, and Wealth Solutions are the EFG's three main business segments.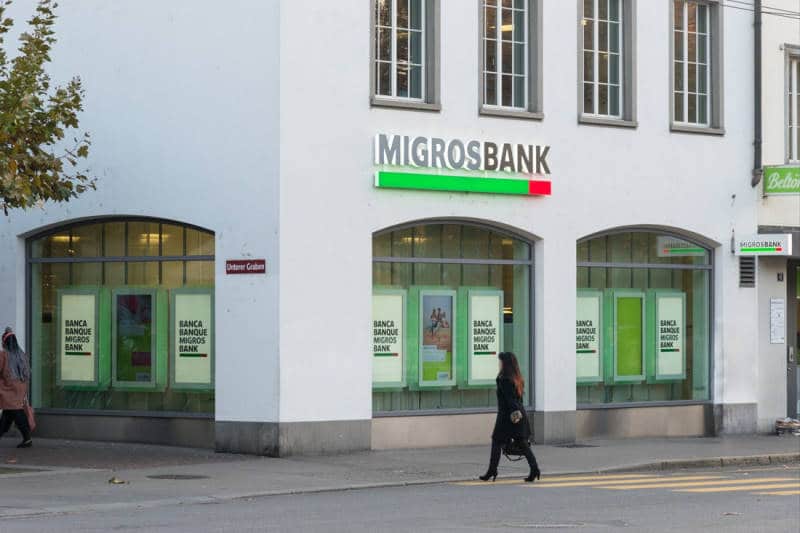 This is a Subsidiary of Migros-Genossenschafts-Bund that was established in the year 1958. It provides e-banking, investment services, financial services, mortgages, and accounts.
Migros Bank AG opened its doors in 1958 and today has grown to be one of the leading banks in Switzerland with more than 800,000 customers.
There are 67 Migros bank branches and about 200 ATMs located across the country.
Basler Kantonalbank is a regional bank in Switzerland that was founded in 1899 and offers services like deposit, mortgage & other loans, portfolio management, foreign currency, and many more.
This bank only operates in the North West region of the country via a network of numerous branches.
It is one of the 24 cantonal banks serving 26 cantons in Switzerland.
Summary
There are about 252 banks in Switzerland but here, we've discussed the top 10 best Swiss banks with their financial structure.
The banks listed above and other banks in Switzerland make a significant contribution to the success of the Swiss financial center.